We are excited to share that additional reviews have been published of the Ban Chiang Metals Monograph Suite!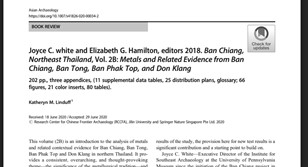 Francis Allard, a specialist in East Asian archaeology, has published a review in Asian Archaeology (vol. 4 no. 1). He writes that the suite "is well suited to students interested in the prehistory of the region, the technical aspects of metal production, as well as the increasingly important role which the field of archaeometallurgy plays in our understanding of the past."
Katheryn Linduff, a specialist in ancient Chinese and Eurasian art and archaeology, has a review appearing in the same issue. She writes, "a more thorough, introspective and critical examination of this, or any other, set of material would be difficult to find!"
Penny Van Esterik, an anthropologist focusing on Southeast Asia, has written one for The Journal of Asian Studies (vol. 79 no. 3). According to her review, "specialists will have these groundbreaking definitive monographs to study for years to come."
Here are copies of Allard's review, Linduff's, and Van Esterik's.